How membrane switch metal backers can eliminate the hassle of maintenance
by JC Kocjancic, on Jul 10, 2022 12:37:08 PM
When affixing a membrane switch to an enclosure or housing, you have two installation options: an industry-tested adhesive or a metal panel. We recommend that you consider both options when designing your membrane switch.
In certain applications, our clients have been able to reduce downtime and save money by using the metal panel option.
The Use of Adhesives
One traditional method of affixing a membrane switch to your enclosure is the use of a pressure-sensitive adhesive. The Cubbison Company offers multiple adhesive options.
The Potential Benefits of a Metal Backer
An alternative to adhesive backing is the use of a stainless steel or aluminum panel. This option can be useful when it is time to program electronic units, perform maintenance, or replace components.
Structural integrity: A metal back panel can become one side of your housing. It can be manufactured to be the same size and shape as any housing or enclosure. This ensures a snug fit and the precise placement of the membrane switch tail.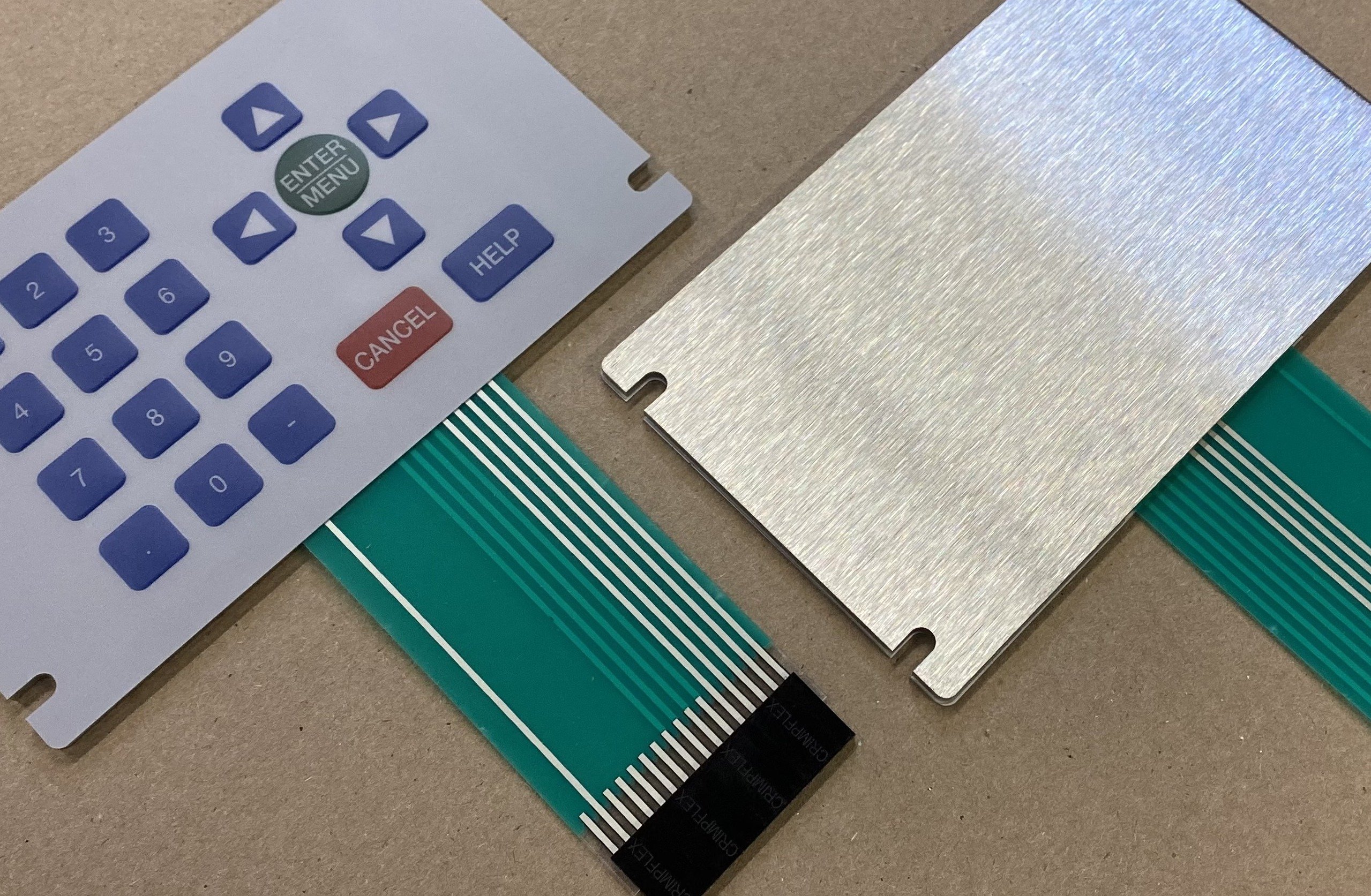 Membrane switch longevity: Industry-tested adhesives are made to withstand vibrations and other harsh environmental conditions. This holding power makes it equally difficult for your membrane switch to be removed from your enclosure. As a result, membrane switches applied with adhesives are often punctured, smashed, or defaced during the removal process.
Plug and play: When a membrane switch is applied to the housing with a metal backer, it becomes a plug-and-play component. You can easily remove and replace the membrane switch without damaging it, and you will also eliminate problematic adhesive residue on the housing.
Simplified maintenance: Because the metal panel is bolted onto the enclosure, you can just as easily remove the bolts. This allows you to remove the membrane switch and back panel as a single unit, which in turn creates a larger area of access when it is time to repair or replace your PCB. This larger area of access also eliminates the need to create a secondary point of access.
How Cubbison Simplifies the Process
The Cubbison Company offers a turnkey solution for your membrane switch needs. This means that you will not need to engage two different manufacturers to complete one project.
We source the metals, guide your design considerations, and manufacture the switches and panels. We also verify the function of your membrane switch before and after the metal panel has been added.
If you manufacture your own membrane switches or source them from another manufacturer, you can still turn to us to manufacture metal panels customized to your membrane switch enclosures.
The Cubbison Company's Turnkey Solutions
Some engineers and purchasing managers are unaware of the full scope of The Cubbison Company's turnkey project capabilities.
To help keep you apprised of our full scope of products and services, we invite you to subscribe to our monthly newsletter, a source of relevant industry developments, engineering challenges, compliance concerns, and technology advancements.
You can also contact us for a quote request or to start a discussion about any project that you have in the works. Call (800) 733-4133 or email us at salesengineer@cubbison.com.
About JC Kocjancic
JC Kocjancic, chief operations officer, provides oversight of Cubbison Company's engineering and manufacturing activities. Though clients rarely sit face-to-face with JC, their satisfaction is directly related to his expertise and dedication to quality and excellence.
About Cubbison Company
Cubbison Company supports spec-ready and customized solutions to meet the printed electronics, user-interface, and commercial product identification needs of its clients. Companies in the medical device, defense, transportation, industrial power, oil and gas, aerospace, and manufacturing sectors rely on Cubbison Company for engineering and design expertise, manufacturing precision, and exceptional service.
Learn more at cubbison.com.