From Concept To Completion - Cubbison HSS Solves Variance In 3 Easy Steps
by Cubbison, on Jun 14, 2018 11:55:00 AM
Manufacturing has evolved throughout the course of history with qualitative advantages defined in revolutions. The first Industrial Revolution marked the emergence of mechanization. The second centered on electricity and mass production and gave birth to transportation as we know it today. The third Industrial Revolution marked the shift from mechanical and analog electronic technology to robotics and information technology, giving rise to high level automation in the world of production. This brings us to the present as we're in the midst of another revolution.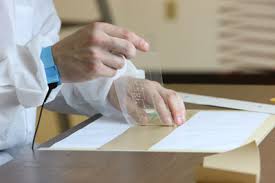 Data is key to the latest revolution that we've come to know as smart manufacturing. The Industrial Internet of Things (IIoT) has provided the platform to harness information and apply it to predictive analytics to achieve higher levels of intelligence, orchestration and optimization within factories and plants. In return, touch controls have developed and proliferated as we bring intelligence to more aspects of our daily lives. But, integrating touch buttons, screens, sliders and pads into smart interfaces can be incredibly challenging and time-consuming.
That is, until now. Heuristic Signature Sensing (HSS™) Touch Recognition Technology allows designers the unique opportunity to create products that are essentially immune to capacitive variance. Cubbison Company, a manufacturer of industrial and commercial product identification solutions and flexible printed electronic devices, has the capability to turn a request into a reality with a solution designed to produce higher manufacturing yields and less field failures than ever before.
The first step to implementing Cubbison HSS within the desired product begins with defining variances and parameters of environmental use and life cycle. For example, an organization may seek out Cubbison and ask for a touch sensor to fit a smartwatch that's resistant to liquid, temperature and pressure. In addition, this device must be integrated with a circuit board that's already been developed.
Unlike traditional capacitive threshold sensing, Cubbison HSS can identify adjustable touch signatures and remove anything that does not match. Plus, it provides the opportunity for touch systems to account for any type of variance to sense a true touch event.
Second, Cubbison can begin researching and developing a prototype. In this example, engineers build an enclosed membrane switch featuring an IP67 watertight gasket. IP, or Ingress / International Protection, classifies and rates the degree of protection provided against intrusion such as dust, dirt and liquid. The on/off switch would overlay the circuit board and send signals to the board.
Once a prototype is printed, Cubbison performs rigorous testing in a simulated environment to monitor the design and ensure the device successfully passes each task at hand. Based on the successes and shortfalls of testing, this can take anywhere from a few weeks to several months to perfect the touch. From there, the product can go into mass production.