Tuthill Announces Value Minded Supplier Award for 2017
by Cubbison, on Jul 26, 2017 4:45:00 PM
We are honored to receive one of the three Value Minded Supplier Awards for 2017 from Tuthill Transfer Systems!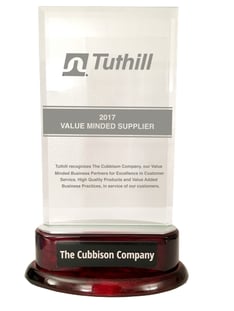 We have been manufacturing nameplates, labels and membrane switches for Tuthill, supplying 115 different products over our nine-year relationship. We are proud to be recognized as a top supplier of such a prestigious and ingenious company. We look forward to a long and profitable relationship, as we continue to provide solutions through our reliability, innovation, and professionalism.
"Cubbison has been a reliable supplier ever since I began working at Tuthill. Their team has pulled us out of many situations that a lesser company could not have accomplished. Thank you for all of the Cubbison Company's hard work and commitment to the customer, it is greatly appreciated!"
– Paul Pike, Manager of Strategic Sourcing at Tuthill Transfer Systems
Through collaborative relationships with our customers and multi-functional teams here at Cubbison, we're able to engineer value for you through targeted pricing, vendor-managed inventory, and supply chain alignment. Tuthill Transfer Systems is a leader in their industry, and leaders choose leaders. We are proud, honored and humbled to be chosen as one of their Value Minded Supplier Award recipients for 2017. We can be your solution too! Click here to communicate to one of our sales engineers.