This Membrane Switch Can Withstand the Most Extreme Conditions
by Cubbison, on Nov 12, 2018 12:07:00 PM
THE CHALLENGE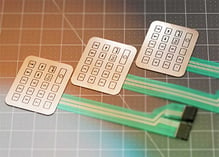 Water immersion is an essential form of testing to make certain a component is adequately sealed and protected from being compromised by penetrating liquid when submerged. In the example of a membrane switch, the presence of water could potentially affect the mechanical operation and electrical functionality. An electrical failure can result in short circuits due to silver migration or oxidation.
When there's no room for error, its paramount parts can effectively operate under the most extreme conditions. This is accomplished through rigorous testing in which design and engineering elements are pushed to the limits. Regulations and policies are enforced to ensure every possible flaw is identified and corrected well before a component goes into production. For a global manufacturer of electronic instruments and electromechnical devices, the objective involved a reengineered solution that needed to accommodate a new set of requirements.
The organization's aerospace and defense unit had designed a membrane switch to be implemented on gas analyzers. This was of unique circumstances as the component featured a metal overlay. The exclusive component added to the level of difficulty in passing an air leakage certification. The membrane switch would have to undergo UL 12.12.01 sealed device testing. The criteria set forth required each sample to be immersed in an inch of water at 122° Fahrenheit for a minimum of one minute. If no bubbles emerged from the samples during testing, the membrane switch would be considered sealed for the purpose of this particular standard.
THE SOLUTION
The manufacturer had already worked with The Cubbison Company in the past with manufacturing stainless steel and aluminum nameplates. With the precise engineering and the highest standards of quality demonstrated in each project, this prominent organization had the uttermost confidence Cubbison could deliver a solution combating the harshest environments and establish a certified seal rating.
Cubbison's engineers provide digital design assistance through each step of the process beginning with determining compliance standards. In this case, the team reviewed membrane switch designs and drawings and analyzed the data to figure out a sound solution that would meet UL 12.12.01 sealed device testing. After a thorough examination, a prototype came to fruition with a metal overlay integrated to suit the durability requirements and environment of the device. In addition, the team increased the size of the gasket underneath the membrane switch to ensure the product was fully sealed.
These adjustments were invaluable as the membrane switch featuring a metal overlay surpassed all testing requirements and was approved for full production. And while this was a unique request, Cubbison's engineering capabilities are versatile enough to design and manufacture a product that can readily fit any customer's needs.