ISO 9001:2015 - We Have It!
by Cubbison, on Jul 13, 2017 4:39:00 PM
We are proud to announce our successful certification of ISO 9001:2015 Quality Management System, effective July 29th, 2017. To gain this certification, we have been assessed by the National Standards Authority of Ireland (NSAI) against the internationally recognized standards of the National Accreditation Board (ASQ-ANSI), which further shows our commitment to quality and assurance. Achieving this level of quality certification required examining and documenting all of our processes, and making sure through internal audits, that our operations are predictable, consistent and reliable. Our decision to become ISO 9001:2015 registered is a proactive one that not only anticipates the demands of our customers, but also demonstrates our commitment to providing verified first class manufacturing solutions and services for our customers.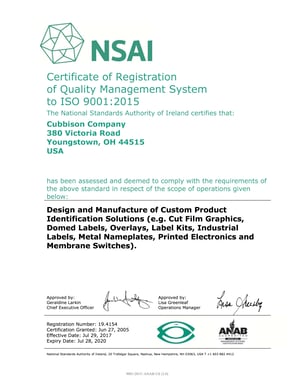 For your records, our registration number and scope are as follows:
Standard: ASQ/ANSI/ISO 9001:2015
Registration Number: 19.4154
Scope: Design and manufacture of custom product identification solutions (e.g. Cut Film Graphics, Domed Labels, Overlays, Label Kits, Industrial Labels, Metal Nameplates, Printed Electronics, and Membrane Switches.)
Read about the 4 main differences between an ISO 9001-2008 and an ISO 9001-2015 certification here!