How prototypes can eliminate color inconsistencies
by Glenn Farrell, on Sep 9, 2022 1:32:08 PM
A prototype, or product model, is printed in a manner identical to full production. The difference is that you can order a handful of products to evaluate and use them to revise functionality, form, durability, and design—before you invest in a large volume of finished product.
Design Application
Prototyping is useful when you want to tweak the design of an existing product, rebrand, or bring a new product to market.
Specifically, you can use prototypes to evaluate aesthetics, color consistency, graphics, and other brand components. Based on your findings, you can quickly walk through multiple iterations until you settle on every product feature.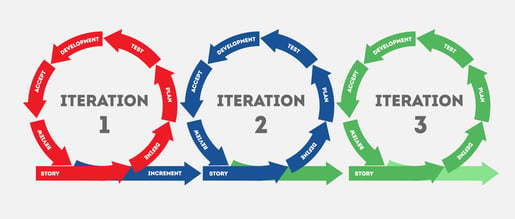 This article deals specifically with prototypes and the design component of color consistency.
Color-Matching Accuracy
Have you ever labored over a paint selection only to find that you hate it once you get it on the wall? The color looks different because of natural light, wall texture, or paint colors on adjacent walls.
You face the same risk when selecting your product colors.
The human eye can perceive millions of color variations, so even a slight deviation of your brand colors will be detectable. And, fair or not, any hint of brand inconsistency could be perceived as less-than-best quality by your customers.
To ensure accuracy, The Cubbison Company uses a spectrophotometer that is sufficiently powerful to confirm the accuracy of color to <1 Delta E.
With The Cubbison Company's Rapid Prototype Program, you will have
five prototypes in just five days!
Five Factors that Impact Color Consistency
Most companies hand us a unique CMYK or PMS color combination that represents their brand. While this gives our design engineers a great start, we always take time to explain why the colors of your finished product might not look like what you expect. Some of these factors include your choice of substrate, finish, texture, opacity, and adjacent colors.
Substrates
Prototypes will help you assess the quality of aesthetics and visual product identification before you print nameplates, labels, and overlays.
Your choice of substrate is one important consideration.
For instance, polycarbonates as a raw material have a blue hue, while polyesters have a yellow hue. Applying your standard brand color without accounting for these variations can be a costly mistake.
In the same way, the type of metal used for your product will have a bearing on color, aesthetics, and brand alignment.
Finishes
Color inconsistencies are often the result of substrate finishes. This is true whether your product is manufactured from plastic or metal.
For example, light reflects differently on metal that has a grain finish versus a lustre finish. Likewise, plastic substrates reflect light differently depending on whether they have a glossy or matte finish.
Based on how light reflects on a given finish, the final color could vary from your expectations.
Textures
Rough, raised, and otherwise textured plastics absorb and reflect light differently. For this reason, your brand colors can shift to a warmer or cooler hue. Likewise, colors can look lighter or darker based on surface texture.
Opacity
Opacity is the extent to which a printed ink will permit or prevent the transmission of light. When your brand colors are applied to various substrates, the percentage of opacity can change.
While opaque pigments allow no light to pass through, translucent and transparent pigments do. In these cases, the substrate will be visible to some degree. Because of this, opacity needs to be considered as a factor in color consistency.
Adjacent colors
Getting one color right does not guarantee that a second or third color will satisfy brand precision. For this reason, it is important to view all colors adjacent to one another before moving ahead with production.
Color-Matching Methodology
The Cubbison Company uses three industry-accepted color matching systems.
CMYK: Cyan, magenta, yellow, and black (CMYK) is a 4-color process that can be used to produce endless color options. CMYK is often the method of choice in the following instances: you need to incorporate eight or more colors, cost-effectiveness is a priority, or your brand includes a photo or cartoon image.
PMS: The second color-matching method, pantone matching system (PMS), uses colors that are accepted as standard by manufacturers worldwide. PMS is preferred when you want to incorporate the color black or when you are relying on the precise and consistent replication of an uncommon brand color. PMS is also preferred for bright colors or when consistency is necessary across a variety of substrates.
RAL: We are also able to color match using the European system Reichs-Ausschuß für Lieferbedingungen und Gütesicherung (RAL), which is used for paints, coatings, and plastics.
The Use of Branded Prototypes
The value of a prototype extends beyond color matching in isolation:
assess product aesthetics

promote products before full production (such as trade shows)

reduce costs related to color modifications

test customer response to design

validate design with your marketing team
Exciting Update!
The Cubbison Company is installing an HP Indigo Digital Printer that will significantly accelerate our printing capabilities, while delivering limitless design options never before possible. Subscribe to our monthly newsletter, Cubbison TouchPoint, to keep pace with technology and product updates.

The Cubbison Company's Rapid Prototype Program
At The Cubbison Company, we put every effort into safeguarding your time and financial investment, and prototyping has proven to be a cost-effective way to do this.
Our Rapid Prototype Program will help you vet your proof-of-concept, functionality, form, and fit, before you invest in a full production run. To help you stay on track, we can deliver prototypes within a matter of days.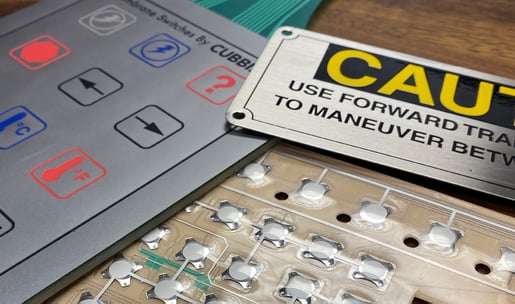 The Cubbison Company's Rapid Prototype Program will help you:
establish a concept-to-production roadmap

increase credibility with clients, stakeholders, and decision-makers

prevent user risk, product recall, and compliance shortcomings

produce a small amount of product quickly

rapidly validate and refine design

test form, fit, and functionality

test how materials will perform in various environmental conditions
With The Cubbison Company's Rapid Prototype Program, you will have
five prototypes in just five days!
How can we help?
The Cubbison Company is prepared to help you achieve your design, engineering, and manufacturing needs, including the branding and customization of the following:
nameplates

labels

overlays

membrane switches

sensors

touch technology

and more
Subscribe now to our monthly newsletter.
Contact us for a free prototype consultation at salesengineer@cubbison.com or 800-733-4133.
About Glenn Farrell: Glenn Farrell, The Cubbison Company's sales and marketing director, has more than 35 years of across-the-board manufacturing experience. Because of his technical expertise in the areas of printed electronics, user-interface products, signage, and other asset management solutions, Glenn is often an integral part of the quoting process.
About The Cubbison Company: The Cubbison Company supports spec-ready and customized solutions to meet the printed electronics, user-interface, and commercial product identification needs of its clients. Companies in the medical device, defense, transportation, industrial power, oil and gas, aerospace, and manufacturing sectors rely on The Cubbison Company for engineering and design expertise, manufacturing precision, and exceptional service.
Learn more at cubbison.com.