Embossed Metal Nameplates for High-End Branding
by Cubbison, on Mar 23, 2021 11:29:36 AM
Nameplates have long been used for product identification across numerous industries because they're often made of metal and are able to withstand extreme conditions and environments. But, many companies are now opting to utilize metal's trusted reliability for embossed aluminum nameplates that serve a more decorative, exciting, branding-focused purpose.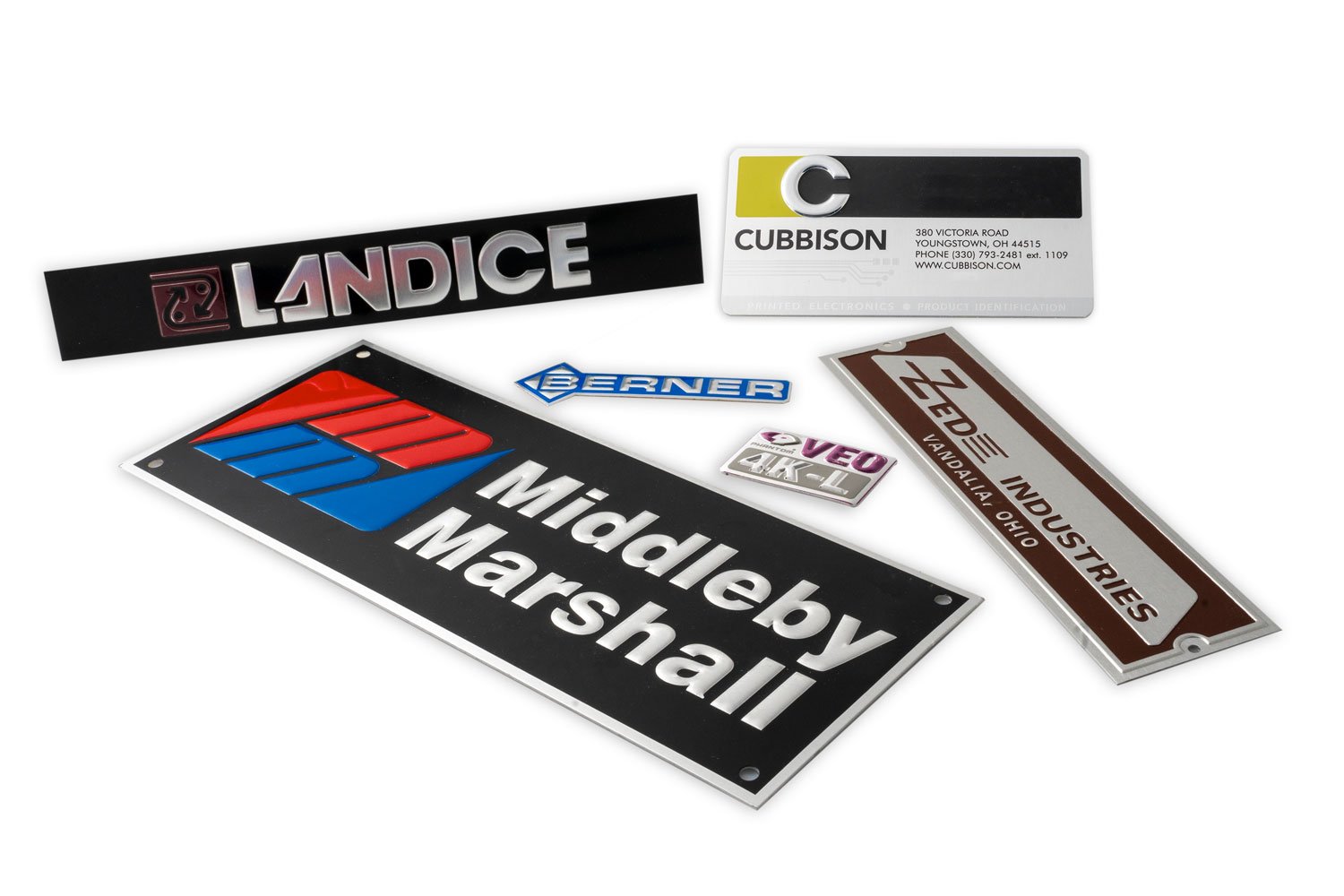 Embossing, at its most basic, is the process of adding dimension to a nameplate, aluminum metal tag, or signage for impact, and functionality. Embossed designs run the gamut, from sizing and color to materials and finish.
So, if you have a logo that you'd like to give some special interest and make an updated design impact, an embossed aluminum nameplates may be the answer.
Embossed
Metal Nameplates
The embossing process permanently marks a nameplate by transforming the original height of the surface into a multi-level appearance through the use of pressure and custom tooling. Companies choose to emboss nameplates, decals, and metal tags for a variety of reasons, but most often embossed products are used for their durability and to create a memorable focal point to the brand itself.
Embossed nameplates can be found in nearly every vertical, from office furniture and computer bezels, medical devices, and aerospace products. Interesting branding nameplates are created by using one of three common processes, embossing, debossing, and coining. At Cubbison, we focus on the embossing process to enable a design palette that can bring specific visual interest to your product.
Embossing
Aluminum Nameplates
Embossing is a type of nameplate production technique that incorporates dimension by creating relief for visual interest. The thickness of the substrate ultimately determines the maximum height of the design. Embossed surfaces can deliver an unmatched look and feel for branding.
Benefits to
Embossed
Metal Nameplates
Embossed nameplates bring with them a level of memorable imagery of the brand that they represent, along with durability, and longevity. The physical dimension that embossing creates results in crisp, raised graphics that can utilize spot decoration, anodized and non-anodized materials, and a variety of bright, semi-bright or matte finishes.
Is

Embossing

Worth It?

Embossing changes the physical shape of the metal itself. And as such, the process of embossing a nameplate results in a longer-lasting, more impactful and three dimensional image. The process offers a uniquely premium product feel that is not achievable with other methods of metal nameplate design.

And, while common sense says that this added branding value process should drastically affect the pricing of such products, the costs aren't as prohibitive as you might think. In fact, embossed metal nameplates have only a modest custom tooling price, which can be as low as a few hundred dollars.

Additionally, the lead time for production is reasonable. For example, with Cubbison's expertise in nameplate design and production, the timeframe for custom embossed nameplates is generally a few weeks, from the design approval stage to shipping.

Our embossing capabilities span a wide range of design options to enhance the perceived value of your brand's badge or nameplate. Our embossing process brings a chic and sophisticated dimension to any project. At Cubbison, we are proud to work with you in designing products that offer a lifetime of beauty and durability.
Cubbison will work with your business to combine a exciting design with the versatile and durable look you want to achieve.
We can offer

embossing

heights ranging from .005 to .040 on .020 aluminum.
We can work with both

anodized

and non-

anodized

mill finish aluminum for varying levels of protection against corrosion.
We offer limitless

screen printing

color options and can create multi-color, detailed

embossed

metal nameplates

to match existing logos and branding.
We offer 4-Color Process/Digitally Printed images on metal to add interest, character, and aesthetics to any project.
We use UV curable and solvent-based inks that protect against UV damage, and we can add a clear coat finish for enhanced

durability

that is scratch- and stain-resistant.
Multiple finishes (matte, satin, and bright) are available.
Cubbison will meet your mounting requirements using only the best industrial adhesive products.
For memorable and stunning branding that is resistant to UV and environmental damages, embossed nameplates may be your opportunity to upgrade. For more information on our in-house capabilities or to speak with one of our talented and experienced specialists, reach out today for free samples of this exciting process!