David Moore Promoted to Printed Electronics Manufacturing Manager
by Cubbison, on Aug 19, 2021 2:40:49 PM
David Moore's Promotion to Printed Electronics Manufacturing Manager Brings Creative Innovation to Assembly Process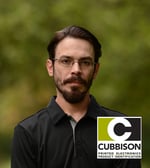 The Cubbison Company, a world-class manufacturer of product identification solutions including nameplates, labels, and flexible electronic devices, has announced David Moore as its Printed Electronics Manufacturing Manager.
Moore has been with Cubbison for six years and integrates his twenty-two years of graphic design background and previous manufacturing experience with the company into this vital role. "I was naturally drawn to the manufacturing side of our company. However, I want to bring more innovation and efficiency on the line," says Moore.
"David's natural curiosity and creative problem-solving skills will provide our clients new options to customize their products," said Tim Merrifield, Cubbison's CEO.
As Printed Electronics Manufacturing Manager, Moore will be heavily involved with engineering and have 100% control over how Cubbison manufactures its products and improves processes. Another core function of his role is to bring innovation and new ideas to the products. "I take pride in my work and want to make positive changes," said Moore, which aligns with Cubbison's core value of customer satisfaction.
Moore's role will also play a part in Cubbison's infrastructure planning and any capital improvements. "I look forward to bringing new processes and technology to Cubbison," said Moore. He hopes to continue to grow his career with Cubbison and is excited about this new challenge.