Cubbison's Guide Provides Membrane Switch Design Assistance
by Cubbison, on Nov 25, 2019 5:09:55 PM
Details Requirements for Meeting Application Criteria of OEMs
OEMs turn to membrane switches for fast, accurate, and reliable human-machine interface solutions in order to provide customers with ease-of-use, satisfactory tactile response, and rapid functionality. The specific application, environment, and type of machinery on which the switch will be used make virtually every design a custom design that must meet a very specific set of criteria.
Click the button below to download the Membrane Switch Design Guide
Effective design is totally dependent on a distinct application and requires a good understanding of that application. Therefore, clear communication between the switch manufacturer and the customer is required for a successful and efficient design. To help obtain a better grasp of a customer's demands, the Cubbison Company, an ISO-certified, U.S.-based custom membrane switch manufacturer, has developed an online guide which details what is required to successfully launch a new membrane switch design process. Employing the guidelines listed will maximize the quality, reliability, and efficiency of the switch—exactly what every customer desires. Cubbison's Membrane Switch Design Guide provides a clear picture of options in design, materials, colors, graphics, and much more.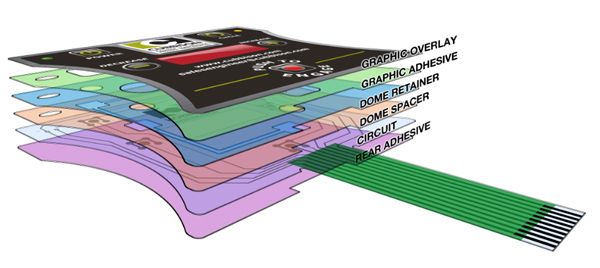 The Ultimate Switch Design Guide
The Cubbison Membrane Switch Design Guide includes information that provides the OEM with a detailed overview of the company's capabilities and design options. Features of the guide include:
Design Services
Cubbison's full-service art and engineering design departments offer complete membrane switch design. Offering multiple printing options, the company's design engineers work with customers to build a custom switch for their intended applications.
Multiple Material Options
Hard-coated and textured polyester and polycarbonate substrates have been designed specifically for the graphic overlay on membrane switches, and range in finish from high gloss to velvet matte. Both product ranges are printable on the second surface; they are solvent, chemical and scratch resistant on the first surface.
Precise Color Matching
Pantone Matching System (www.pantone.com) is the most popular for graphic art applications. Cubbison matches Pantone, custom, and transparent colors with our presses. There are separate matching criteria for both opaque and transparent colors.
Overlay Embossing
Cubbison can provide either pillow (pad) or rim (perimeter) key tactile designs into polyester or polycarbonate overlays. This process requires a male/ female die set. Overlay embossing dies are manufactured with sophisticated tolerances to allow for material flow.
Clear or Tinted Windows
Display windows are typically transparent, and they can be either clear or color tinted. LED windows can be either transparent (with or without color added) or translucent. A transparent color is optically clear and used to filter backlight displays reducing the "blooming effect" of the display. A translucent color is normally used for diffusing an indicator light or backlighting for printed graphics.
Selective Surface Texture
Cubbison offers hard coat films that are polycarbonate and polyester substrates specially treated so that their surfaces can be selectively textured, embossed, or printed with UV inks. Available in finishes ranging from glossy clear to textured matte black; hard coat films offer a range of display options.
Circuit Design
Circuitry is designed using either a common bus or matrix configuration, or a combination of the two. Cubbison can supply a range of heat stabilized polyester films which offer high stability specification and are designed to be screen printed with conductive, carbon, and dielectric inks. Our designs can include crossovers and laser cut vias.
Backlighting Design Options
LED – Used primarily for indication and single point illumination.
Fiber Optic – A fiber optic layer can be incorporated into the membrane switch when even, uniform lighting is required.
Light Guide Film – This option also provides even, uniform lighting.
Shielding Options
ESD, RFI/EMI - Our most common types of shielding are printed using either carbon ink or silver ink or by using solid aluminum foil.
Glossary of Terms
A glossary of terms applicable to the design process has been included in the guide as well. An understanding of this terminology is often very helpful in a customer's communication with Cubbison.
Project Submission Requirements
In any project requiring the providing of graphics, fonts and specific colors, stringent submission requirements must be met in order to ensure that customers' criteria are met. The Membrane Switch Design Guide includes detailed artwork criteria—dimensions and colors for example. Also, you will find acceptable software files—.ai, .eps, .pdf, etc.
Simplifying the Design Process
The Cubbison Membrane Switch Design Guide was created to make the custom design process more efficient by creating a basis for communication between the OEM and our designers and engineers. They work very closely with customers in developing a membrane switch that performs flawlessly in the end user environment. So, if you're an OEM ready to embark on a new switch design project, the place to start is with Cubbison's Membrane Switch Design Guide online.
Click the button below to download the Membrane Switch Design Guide