The Cubbison Company Achieves ISO 13485 Certification
by Cubbison, on Jul 19, 2021 2:08:15 PM
We are proud to announce that The Cubbison Company (Cubbison) has received ISO 13485:2016 certification. Obtaining this certification allows us to amplify our commitment to quality while providing premier solutions to the industries we serve.
Based off of ISO 9001, an internationally recognized Quality Management System (QMS), ISO 13485:2016 enhances the approach of product development in the medical device industry. Designed to support the manufacturing process, this QMS places priority on safety, consistency, and quality. ISO 13485 is designed for regulatory compliance and is a more in-depth, documented system, requiring us to meet certification requirements per industry needs and the revised standards set forth every five years.
In addition to the ISO 13485 certification, we also hold ISO 9001 and AS9100 certifications for the aerospace industry and are compliant with the International Traffic in Arms regulation (ITAR). We currently serve clients in the medical, aerospace, energy, transportation, and manufacturing industries.
"We're proud to be one of only a few U.S.-based companies in the industry to earn ISO 13485, and it's an exciting achievement for our team," said Alex Stellmar, Quality and Safety Director of The Cubbison Company. "Receiving this certification demonstrates the commitment Cubbison and our employees put forth to ensure the best for our clients and their industries."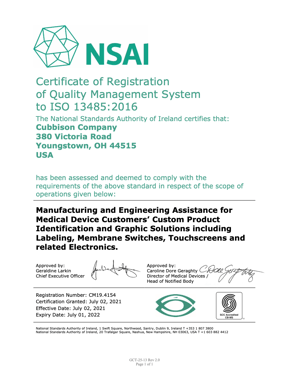 About Cubbison:
The Cubbison Company, located at 380 Victoria Road, Youngstown, Ohio, was founded in 1951 and is a premier global manufacturer, supplying product identification items to numerous industry verticals. With over 75 employees and 70 years of experience, Cubbison is dedicated to Innovation, Quality and Customer Service. For more information about The Cubbison Company, please visit www.cubbison.com or call 800-733-4133.