Berner International "opens up" about Cubbison
by Cubbison, on Oct 22, 2017 9:28:00 AM
Berner International is an air curtain company located in New Castle, PA. We recently spoke with Bill Baker, Supply Chain Manager. He's been with Berner International for 23 years.
Upon entering a building from a warmer climate, if you feel a rush of cool air, (especially in open-door environments) just look up! You'll see a Berner International air curtain. How will you know it's Berner? Because of the work Cubbison does to ensure brand recognition. Cubbison produces graphic overlays on control panels and aluminum logo plates for Berner International's air curtains which can be found worldwide.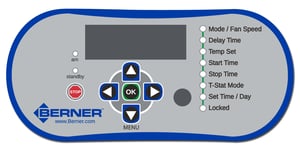 Cubbison meets all of Berner International's needs for custom product identification. Utilizing one vendor for all product ID needs plus the relationship Bill has been able to build with our outstanding sales team has contributed to an efficient partnership.
Bill talked to us about the ease of doing business with companies that are geographically centric because face-to-face meetings can be more productive. With Cubbison, he noticed that our ability to provide solutions and products with superior quality keeps things running smoothly.
"Our relationship with Cubbison has grown because of your competitive pricing and accurate lead-times, which helps to facilitate my lean-thinking strategy for Berner International." – Bill Baker
With the international scope of the products we manufacture here at Cubbison, our footprint is much larger than some realize. With Cubbison, you can depend on a strategic partnership that is able to meet or exceed your needs. Cubbison maintains manufacturing reps throughout the US, click here to give us a call today!