6 tips for a fail-safe membrane switch design
by Yvonne Smith, on Aug 2, 2022 4:26:23 PM
Are environmental conditions deteriorating the functionality of your membrane switch?
As membrane switch applications in the fields of medical devices, aerospace, and personal security become more common and complex, malfunctions can result in circuitry failure, device interruption, and even negative impact on the comfort and physical safety of the end-user.
This makes membrane switch design more important than ever.
Our design engineers have put together six tips for a fail-safe membrane switch design.
#1: Know the nitty-gritty of environmental conditions
Early in the design phase, you should evaluate environmental conditions that could impact the function of your membrane switch. Many of our clients need solutions that can withstand:
water droplets, spray, or submersion

chemicals or harsh cleaning solutions

high humidity

ultraviolet (UV) radiation

dust and debris

excessive vibration

high altitudes

extreme hot and cold temperatures
Materials and adhesives are an important place to start. The more you know, the more you can prepare. So, get specific.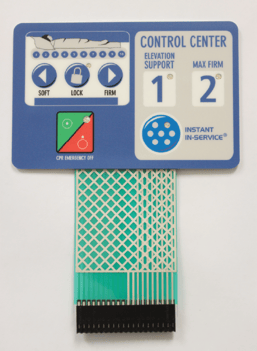 For example, if you need a switch that can handle water exposure, will it be 24-hour drip, a daily spray, or hours of submersion? For vibration, will it be intermittent or constant? If extreme heat is a consideration, will the highest temperature be due to an occasional weather peak, or is it a factor that will exist 90% of the time?
You get the idea. Dig beyond the basics and into the nitty-gritty of the environmental challenges. Also, keep in mind that most environmental conditions can fluctuate from negligible to critical at any time, so it is important to consider worst-case scenarios during the design phase.
#2: Recognize the potential need for design tradeoffs
Each layer of the membrane switch has a specific purpose, and so the materials used in every layer should be considered to protect the integrity of the entire switch.
Sometimes, however, you might encounter design tradeoffs.
For example, overlays are especially prone to cracking and loss of integrity when exposed to UV radiation, extreme temperatures, and caustic cleaning solutions. So, while a particular overlay material is ideal for the end-user, it might not be the best choice for that environment.
#3: Check compliance before design
While compliance is an obvious consideration, we have encountered situations when clients have considered compliance too late in the game, after the design has been completed, and more discouragingly, after production and installation.
#4: Insist on manufacturer testing
Another layer of defense against malfunction is testing at the time of production. Your membrane switch should not leave the door of your manufacturer until testing for form and function has been completed. We have had clients come to us in need of a solution after purchasing "cheap" switches that did not function properly in the intended environment. By sharing the burden of testing with a reputable manufacturer, you can avoid going back to the drawing board.
#5: Invest in a prototype
A prototype is an easy way to vet the design and functionality of your switch. Specifically, you can test how different materials perform in a certain environment. This vetting phase can be a safeguard against user risk, product recall, and compliance shortcomings. The Cubbison Company offers a Rapid Prototype Program that will help you perfect your design with little impact on your production schedule.
#6 Have a rotating maintenance plan in place
Most membrane switches are designed to last for at least one million actuations. For some clients, that equates to outlasting the device itself. But that might not be the case if your existing membrane switches have been exposed to harsh environmental conditions over time.
Develop a tracking system to denote which switches need tested or replaced, because planning is the key to limiting malfunctions and downtime.
Please contact The Cubbison Company to discuss design considerations for your membrane switch project. You can call us at (800) 733-4133 or email salesengineer@cubbison.com.
Learn more about membrane switch designs, applications, technical specifications, and more at cubbison.com.
Yvonne Smith, printed electronics engineer, has been with The Cubbison Company for 12 years.
About Cubbison Company
Cubbison Company supports spec-ready and customized solutions to meet the printed electronics, user-interface, and commercial product identification needs of its clients. Companies in the medical device, defense, transportation, industrial power, oil and gas, aerospace, and manufacturing sectors rely on Cubbison Company for engineering and design expertise, manufacturing precision, and exceptional service.