5 Questions Your Membrane Switch Manufacturer Should Answer Confidently
by Cubbison, on Jan 23, 2019 12:09:00 PM
The Eighties marked the invention of the membrane switch to operate machinery. It's been more than 30 years since membrane switches and keyboards came on the scene, but not without scrutiny. Those skeptical made claims about these technological wonders being insufficient to inputting data and as a low-cost solution constructed of inferior material.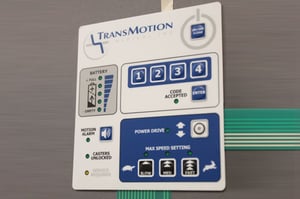 That was then; this is now. While there had been growing pains in the early days, membrane switches have evolved into sophisticated high-tech subsystems and are an essential component of technical applications for many industries. The composition and structure of the graphic layer was a change that marked a substantial improvement in the membrane switch design with the use of polyester instead of polycarbonate. Polyester proved to be stronger, more rugged and chemical resistant, and able to withstand constant use without breaking or otherwise cracking like its polycarbonate counterpart. Of course, this also led to the advent of tactile feedback, with more than one million actuations, has become a popular feature found in membrane switches. Additionally, manufacturers began to use backlights in their membrane switches, including LED and fiber optics.
Membrane Switches Offer Unmatched Flexibility
The purpose of a membrane switch is to use equipment with ease while offering a more attractive and flexible alternative to mechanical switches. The latter is the thing that appeals to design engineers the most regarding membrane switches. There are so many user interface or human machine interface (HMI) variations along with the freedom to implement a precise customer experience, the possibilities are endless with utilizing a membrane switch in an application.
So now that you're ready to build your membrane switch, it's time to select a manufacturer. Choosing one should be as easy as picking up an Uber, right? Not exactly. Unforeseen project costs, poor material choices, manufacturing inexperience and bad customer service can turn any membrane switch dream into a nightmare.

Questions to Ask Membrane Switch Manufacturer
While many claim to be the best, very few can deliver a quality membrane switch. There are those manufacturers who pride themselves on affordability, but in return, provide customers with a membrane switch that's subpar. Then you have others that overpromise and require a huge investment up front, but underperform with services that are not within the expected standards. The truly best membrane switch makers can customize a switch within the preferred specifications in a timely manner by coupling experience and knowledge with the very latest technology applications.
So, when it comes time to picking the right membrane switch manufacturer, there are five questions that need to be asked:
1) What kind of certifications does the manufacturer hold? Are they ISO certified?
Okay, so this is technically two questions. Do your homework on a business. Look for signs of credibility and see what industry standards and certifications they possess. You can learn a lot about an organization and how it operates based on its accolades. This is where an ISO certified manufacturer with an in-house design team can collaborate with you to ensure all design requirements are understood and achieved.
2) Do they have experience working with your application?
Did you know one of the most common causes of switch failures involves not matching the material with the operating environment? The manufacturer should have a clear understanding of the end-use application. They should be asking a series of questions from chemical exposure to backlit capabilities through a design guide to determine the appropriate membrane switch for your application.
3) What approach does the membrane switch manufacturer take with prototyping?
This may be the most important question to ask. Prototyping should be a given. It's the best way to help customers get the most effective results in the most efficient manner. When in discussions with a membrane switch manufacturer, speed and effectiveness should be mentioned. Plus, if issues do arise during prototyping, how do they react to making the necessary changes?
4) How does the membrane switch manufacturer optimize efficiencies?
The ideal business is one that embraces a lean manufacturing philosophy. The premise is about time and motion, and your membrane switch manufacturer should be dedicated to a smooth operation reducing costs, mistakes and inefficiencies. Lean manufacturing encompasses everything from capital improvements to the exploration of new processes and technologies.
5) What additional services does the manufacturer provide?
The more the merrier! It's a good sign when the membrane switch manufacturer offers a variety of services. This can range from product nameplates, barcode labels to touch screen and flexible electronics. Plus, this is another good indicator to determine how well the business functions in other facets of the industry.